Thank you for your interest
The U-GLOVE® distribution program, designed to reach every corner of the country, while maximizing distributors' benefits with a long-term partnership that is based on trust and our commitment to deliver excellence.
The U-GLOVE® program provides distributors with access to an exclusive, patented protected product that is in high demand by retailers across multiple industries. Our distributor program offers volume-based incentives and performance-based customer account exclusivity to enable master or direct distribution.

The U-GLOVE® program provides a zero-touch solution to customers seeking safety and protection in public spaces. Our patented dispensers elevate your customers' brand image by providing differentiation beyond price. U-GLOVE® offers a competitive advantage and a powerful way to avoid potential liabilities by offering a low-cost solution to mitigate and help contain the spread of viral and bacterial disease while generating income from advertising. Competitive advantages include:

Welcome discount
(only for the first invoice and granted after the second purchase)
Annual rebate program
based on accumulated purchase levels
Volume discounts
(Tier discounts)
No warehouse needed
for large quantity inventory
Online

distributor portal
Dedicated
distributor account

support
Increase average

sales ticket
Net Terms
under credit approval
Access to


new customer segments and
cross-industry opportunities:
Fuel and EV Charging Stations

Grocery Stores (supermarkets, convenience stores)

Quick Service Restaurants

High-traffic public spaces (stadiums, city/theme/amusement parks)

Public transportation (ride hail, bus and subway stations, airports and port terminals)

Government facilities

Travel and leisure (hotels, airlines and cruise lines)

Healthcare and wellness facilities (hospitals, urgent cares, doctor offices, spa and beauty centers)

Financial centers (ATM, banks and drive-thru banking)

Schools and education centers

Increase average sales ticket
Cost-neutral replenishment through advertising revenues

First ever outdoor-indoor disposable HDPE Glove dispenser for multi-location

Food grade high quality disposable gloves

Simple peel & stick dispenser installation

Guaranteed glove replenishment

1-year dispenser warranty

Optional 3-year term replacement program at discounted price

Fully customizable/branded dispensers (under U-GLOVE Patent at additional cost)
All-weather resistant, designed for all seasons (no rust!), versatile, built to last plastic and impact resistant. Easily attach to different surfaces right at your customers' fingertips, just peel and stick.

Patent protected
Unique outdoor-indoor glove dispenser
Hard and durable PVC plastic structure
Single mechanical inner mechanism with no electrical connections.
Double UV coating protection for longer life
Easy installation "peel & stick", using the strongest adhesive offered in the market that comes with the dispensers

2

Upper banner for advertising under patent method (starting Q1 of 2023)
Third party branded gloves for advertising under patent method
Several shipping packing, single (count) shipping pack, case of 4 counts, and full pallets.
Serials to better control dispenser location and advertising georeference
Minimum order quantity
Tier discounts
U-GLOVE®
PROTECTIVE GLOVES
Our standard premium disposable gloves are white embossed, thicker than most alternatives and recyclable. Features include:
Zero-Touch protection

Single use

Recyclable

Food grade

Embossed for easy use

Size L that fits all consumer hands

Touch-screen compatible

Fully customizable with customer's brand or 3rd party advertisements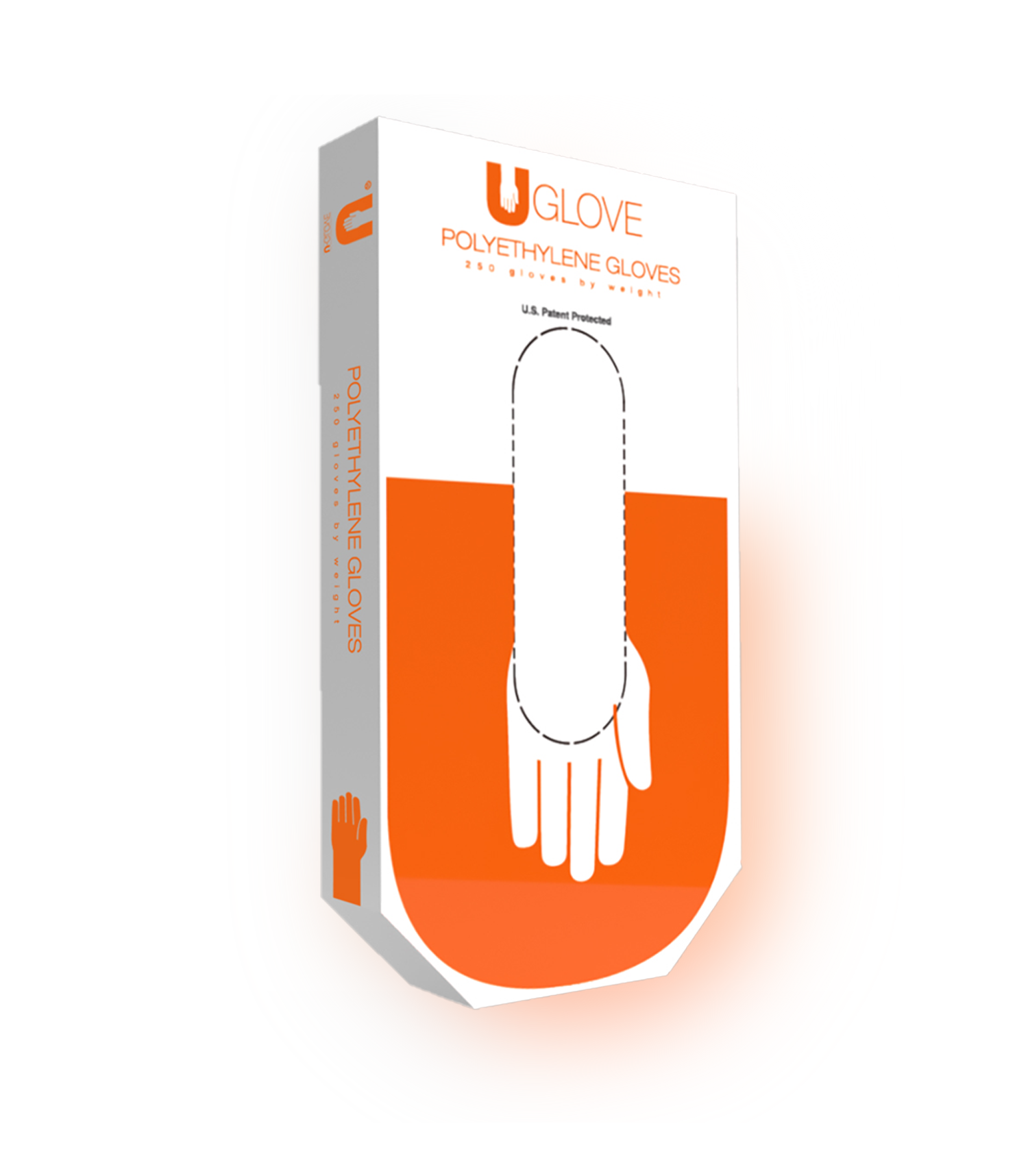 Minimum order quantity
Tier discounts
DISTRIBUTOR CREDIT REWARDS (U-POINTS)
Distributors profit from an additional discount through
U-GLOVE's annual credit reward points program
(U-POINTS), conforming to the following conditions:
-Distributors accumulate points (USD) throughout the year with every purchase
-Reward* levels: Bronze, Silver, Gold

Minimum annual purchase
Minimum amount per purchase
Minimum quantity per item
Minimum quantity of orders per year
Sale under MSRP (Manufacturer Suggested Resale Price).
Maintain account payments up to date
Register online by visiting our